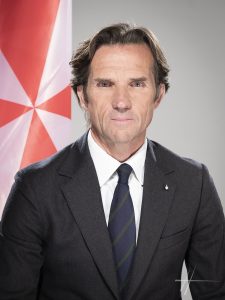 Born March 23, 1966, Olivier de Preville is married and has three children.
Sales engineer at Minolta (1989-93), Partner at Nicholson International (1993-96), President of OP Search (recruitment firm) (since 1997), President of Headhunting Factory (headhunting firm) (since 2015)
Member of the Sovereign Order of Malta since 1998 and Officer of the order of merit since 2017.
Director of the French Association of the Order of Malta since 2010, Secretary General of the Order of Malta France (2013-2018).
President of the Bethlehem Maternity Hospital, from 2015-2018.
He was appointed Ambassador of the Sovereign Order of Malta to the Republic of Niger with residence in Paris.
He presented his credentials on July 22, 2022 to His Exc. The President of the Republic, Mohamed Bazoum.