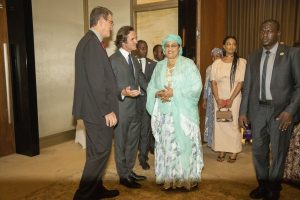 The reception was presided over by the ambassador in the presence of the First Lady, President of the Noor Foundation, the Nigerien authorities, ambassadors accredited to the Republic of Niger, heads of mission, archbishops from the regions of Niamey and Maradi.
Before his speech, the ambassador showed a 4-minute film on the history of the Order and its works, to give everyone an idea of the Order's historical, diplomatic and hospitable dimension.
The ambassador also showed a photo of the new National Centre for the Fight against Sickle Cell Disease, a large-scale project by the Sovereign Order of Malta in Niamey and the Ordre de Malte France.