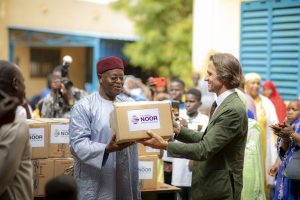 Sickle cell disease has a mortality rate of 50% in children under the age of 5 and 80% before the age of 10. Children are the main victims. Families faced with this chronic disease are generally unable to meet the costs of screening and treatment.
Thanks to the NOOR Foundation, the First Lady's Foundation, the Sovereign Order of Malta's ambassador to Niger, H.E. Olivier de Preville, was able to hand over 1,000 boxes of a precious medicine, Hydroxyurea, to the CNRD (Centre National de Reference de Lutte contre la Drépanocytose) on 22 June 2023. This joyful reception, attended by the Nigerien authorities, the Director of the Centre and all the children, opened the door to a new large-scale project for the Sovereign Order of Malta, the construction of a new centre.
These 1,000 boxes will save the lives of many children and ease their pain, and it is a small miracle that they arrived the day before the official handover.