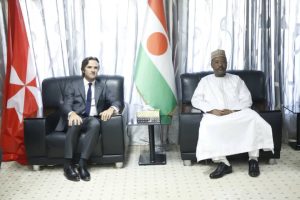 The Sovereign Order of Malta and Niger established formal bilateral diplomatic relations in 1970.
A Health Cooperation Agreement was concluded on March 26, 1974, in Niamey between the Republic of Niger and the Sovereign Order of Malta, during a meeting between the Grand Chancellor of the Order and the Minister of Public Health at that time. This agreement, which focused on the establishment of a leprosy control center in Maradi, is no longer in effect. Therefore, a new cooperation agreement will soon be signed with the Ministry of Health.
A Postal Agreement between the Republic of Niger and the Sovereign Order of Malta was signed in 1987.
In 2005, during the Francophonie Games in Niamey, the Order of Malta provided training to sixty first aid responders.
Until 2007, various activities were carried out, including the transportation and distribution of medicine containers to the hospital in Niamey, dispensaries, community health centers, Catholic religious congregations, as well as the National Office of Veterans.
In response to the food shortage in 2005-2006, the Order of Malta made a donation of 2.8 tons of maize, which was delivered to a commune in collaboration with the Order's Nigerian referring physician.
His Excellency Olivier de Preville has been appointed Ambassador of the Sovereign Order of Malta to the Republic of Niger, with residence in Paris. He presented his letters of credence to His Excellency the President of the Republic, Mohamed Bazoum, on July 22, 2022.
A new Cooperation Agreement is currently being prepared for signature with the NOOR Foundation (First Lady's Foundation). The ambassador is overseeing this project.
To follow the projects of the Order of Malta in Niger: https://nigerembassy.orderofmalta.int/en/projects/center-drepanocytose/